Chinese firm, Hisense, has strong links with both Sharp Corporation and Toshiba. With a license to produce TVs under the Sharp branding, and in 2017 acquiring the license to trade under the Toshiba name, the company has made huge inroads into the global TV marketplace. With fingers in many other pies, including Whirlpool, they have come a long way from manufacturing radios in 1969.
---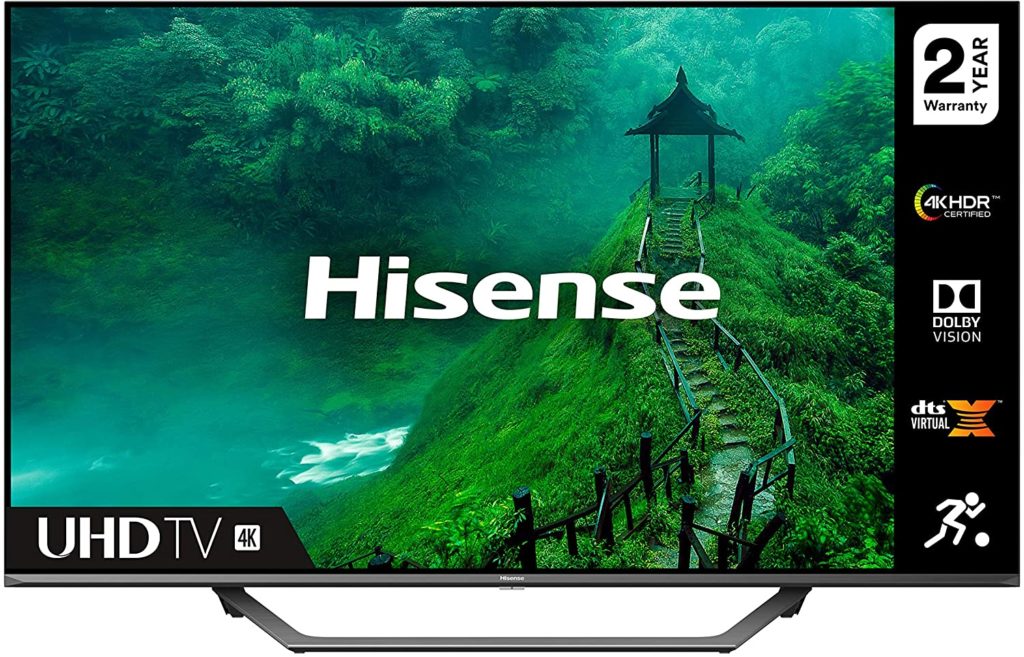 Hisense's AE7400 4K is their biggest TV release in 2021 and is hitting all the right spots. As the gap between low budget models with a performance to match, and those at the other end of the spectrum, lessens, the AE7400 steps up.
It has to be said that the design of this model isn't particularly inspiring, but the build quality is so good, the thin bezels avoid interfering with the viewing experience and the glossy, retro-style feet are a nice touch. At a little over two inches thick, it would be nice to see this slimmed-down more, but even if wall-mounted, this isn't a major gripe. Hisense has given a lot of consideration to the connectivity options, with easily accessible ports, including 3 HDMI, USB, Ethernet and headphone jacks. Some other manufacturers seem to think it's amusing to make the ports as hard to reach as possible – it's really not!
Vidaa U TV Platform
The AE7400 uses the Vidaa U platform for its interface, which we consider to be one of the better ones out there. With access to a vast library of apps and streaming services, it's got pretty much everything covered, including the sacred trinity of Netflix, Amazon, and YouTube. With Alexa built-in and ready to play, this home entertainment centre just keeps on giving.
Dolby Vision HDR offers an impressively decent picture quality, and lends the widest gamut of accurate, lifelike colours, producing a vibrant, balanced image. With contrasts that are superior to others in this price band, blacks are true and deep, and whites lack that annoying halo that many cheaper models have. Contours and textures are nicely reproduced, and with a refresh rate of 120Hz providing smooth rolling action scenes, the AE7400 for picture quality alone is well worth some serious consideration.
Adding to the immersive visual experience, the audio is pretty decent, too. Whilst it lacks the extended thrum of a dedicated soundbar, the built-in speakers provide a good solid performance, with no irritating distortion at higher volumes (and the volume can go to roof-lifting level).
The Hisense AE7400, then, promises big, and actually delivers. If put head-to-head with some of the high end, high price models around, this comes out looking smugly superior. Which, for such a budget-friendly price, is a great reason to buy.
---
What channels are free on Roku?
Over 1,800 channels are available on Roku, and many of these are free, including YouTube, Hasbro and Hoopla.
How does Roku TV work?
Using an HDMI cable to connect Roku device to your TV, it allows your TV to access the Roku features.
Can you watch normal TV on a Roku TV?
You can watch terrestrial channels on a Roku TV, including BBC, and Channel 4, as well as Freeview channels such as Spike.
If you enjoyed this page, and are looking for other great brands, then consider giving these pages a read too!