For sheer size alone, a 70 inch TV is a magnificent beast. Whether you mount it on a wall, or place it on a stand, this size will definitely serve to impress.
Manufacturers have stuffed every conceivable feature into these screens, allowing you to enjoy a near cinema-quality movie experience in your own home! Judder-free, smooth-rolling images with rapid refresh rates, realistically vibrant colors and accurate contrasts, and touchable textures add up to an immersive visual adventure.
The audio landscape has been enhanced too, with everything from the smallest pin drop to a ground-rumbling explosion drawing you in and putting you at the heart of the action.
With manufacturers recognizing that not every room layout can place the audience in the perfect position to view the screen straight on, wider viewing angles are becoming the norm, eliminating that off-side distortion that used to be common. Now, everyone, wherever they choose to sit, can experience the same image quality.
So here's our pick of the best 70-inch TVs!
---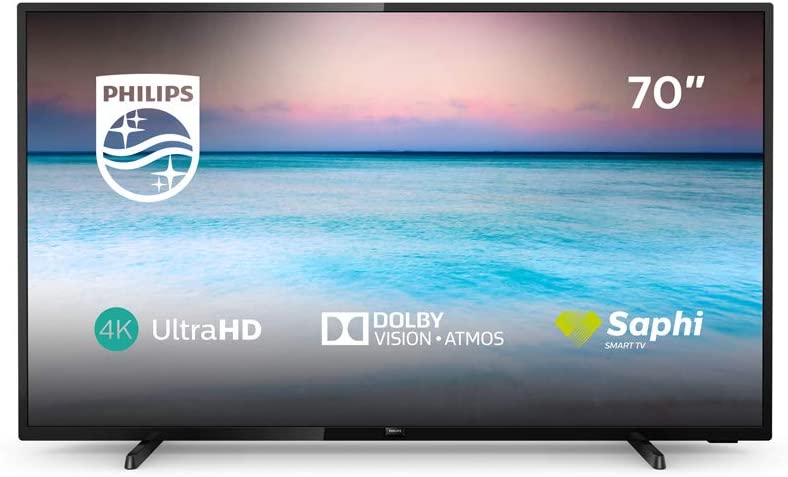 This 70" is the best that Philips we've seen. Retro styled with a gloss black chassis, this model from tech giants Philips performs as fantastically as it looks. With an impressive series of dimming zones running alongside the quality backlighting, the image immersivity is nigh on perfect. The richly vibrant colours played out across this technology, have all luminosity of a summer's day, whilst, thanks to the responsive dimming, the blacks are dark and deep. Action movies are brought startlingly to life, too, via the 240Hz refresh rate, demonstrating that this TV would make an envy-inducing games machine, especially with 5 HDMI ports.
The soundscape, with its well-rounded harmonies, make both music and voice come alive in your ears, and with the low throbbing bass, the car chase could be in your living room.
Smart wise, Philips' Saphi smart platform provides a very efficient user-friendly space for streaming, and Google Assist is on hand to … well, assist. With the ability to turn your TV into the home hub, relax whilst the preloaded apps, including Amazon and Netflix, stream your favourite shows.
Overall, the quality far outweighs the diminutive price tag – there's a huge amount of power for your pound here.
---
Well, it's fair to say, Sony has done it again!
With a chassis to die for, this ultra-slim model ticks all the right boxes for eye appeal. So how does it perform?
The full-colour gamut and near-perfect accuracy bring realism to every scene. Responsive dimming and the native contrasts are excellent, with dark corners appearing sinister and deep, while the lights are bright, without the annoying halo effect. The colour diminishes minutely when viewed from the widest angles, but we don't consider this an issue, as you'd almost have to be out of the room for it to take effect. With an impressive black uniformity, minimum reflection, and super-fast response time, eliminating lag judder, this is looking good so far.
The smart capabilities, via the Android TV interface, allow for thousands of apps, along with the usual preloaded streaming services of Hula, Netflix and Amazon, and of course, the ever-ready Google Assistant. The home menu is efficient and very user friendly, whilst the remote has a button for everything.
We're usually impressed by Sony's innovative technology, and this 65" TV makes the most of it, with casual ease. An easy recommendation.
---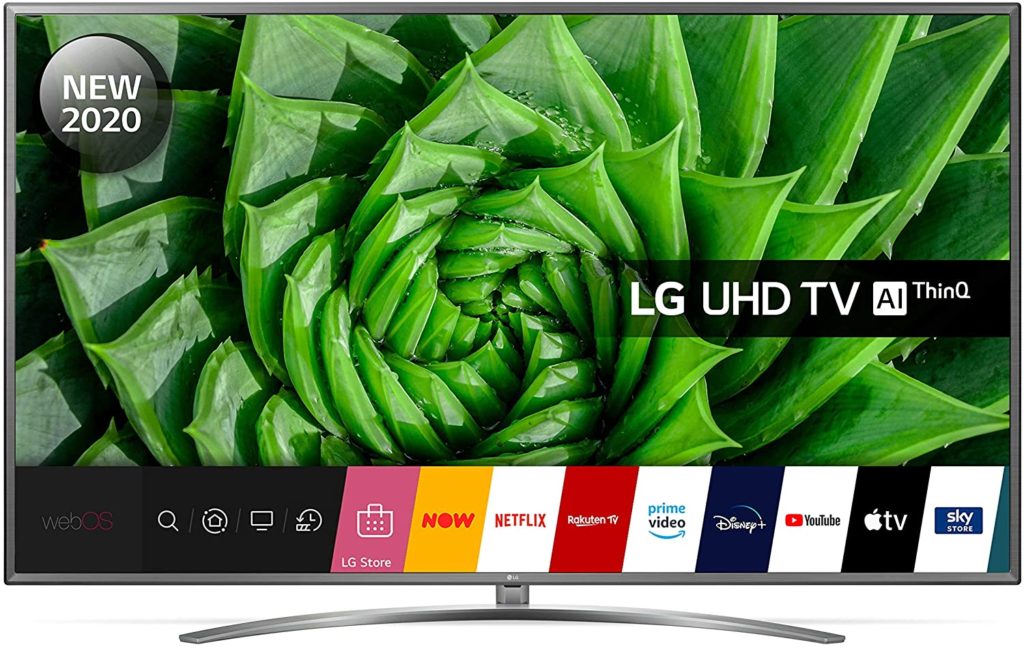 The Quad-Core processing power of this LG is monstrous and provides the viewer with improved picture clarity, and colour, whilst at the same time, a vastly reduced background noise. Enjoy fast-paced movies, smooth-rolling sports action and dramatic effects with the heavyweight processor eliminating any time lag
Thanks to the wide viewing angle of IPS 4K panel providing 100% colour accuracy even if watching from a 60-degree angle, a full audience is competently catered for. LG's ThinQ AI is incredible, offering personalised entertainment, and if you ask nicely, controlling your smart home. The 4K resolution delivers a crisp, clear, bristling-with-detail image, and it has an awesome 3840 x 2160 resolution.
Taking everything into consideration, this LG is an absolute beast worth every pound.
How wide are 70 inch TVs?
A 70 inch TV is around 61 inches wide, including the bezels.
How many amps does a 70 inch LED TV use?
This can be hard to give an accurate figure, but the number of Amps used by a 70 inch TV will be around 1.7 or 1.8 Amps.
What size stand is best for a 70inch TV?
The recommended stand size for a 70 inch TV is around 65 inches.
---
If you enjoyed this page, and are looking for a particular size of TV, then consider giving these pages a read too!